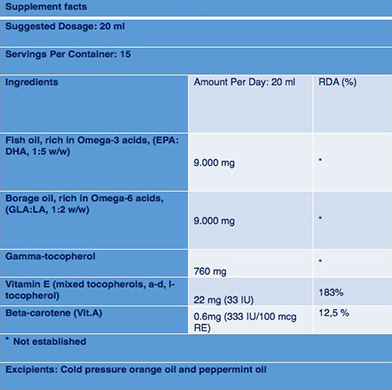 FOOD SUPPLEMENT BASED ON FATTY ACIDS OMEGA-3 AND OMEGA-6 WITH VITAMIN E
NEUROASPIS® plp10 is a clinically validated food supplement comprising a patented combination of the highest quality omega-3 and omega-6 polyunsaturated fatty acids (PUFAs) derived from fish oil and plant sources and antioxidant vitamin E.
The formula of NEUROASPIS® plp10 contains omega-3 molecules: DHA (docosahexaenoic acid) and EPA (eicosapentaenoic acid) and omega-6 molecules: LA (linoleic acid), GLA (gamma linolenic acid) as polyunsaturated fatty acids (PUFAs). Monounsaturated fatty acids (MUFAs) such as oleic acid are also present in the product.
Omega-3 fatty acids (DHA and EPA) present in NEUROASPIS® plp10 help maintain normal brain function1, normal vision1 and contribute to the normal function of the heart2.
In addition, poly- and mono-unsaturated fats replace saturated fats in the diet contributing to the maintenance of normal blood cholesterol levels3.
In addition to omega-3 and omega-6 fatty acids NEUROASPIS®plp10 also contains vitamin E known for the contribution to the protection of cells from oxidative stress and damage.
1 With a daily intake of 250 mg of DHA
2 With a daily intake of 250 mg of EPA and DHA
3 EC 1924/2006 high polyunsaturated fat
Posology and method of administration
Dosage
20ml, once daily, using the enclosed dose-calibration cup. Take 30 minutes before dinner or as suggested by your physician. Do not exceed the recommended daily dose.
Food Supplements should not be used in replacement of balanced diet.
Under 18 years: please consult your physician.